After nearly 12 months of intense work, monthly teleconference meetings and hundreds of emails sent back and forth across the country, team members on the National Institutes of Health (NIH) grant (1U19AI113048-01), were able to gather in person for the first time to discuss progress on this groundbreaking research project.
Hosted by Principal Investigator, Dr. Marc Baum, president of the Oak Crest Institute of Science, the first IPCP (Integrated Preclinical/Clinical Program) Annual Meeting was held July 15-17, 2015, in Pasadena, CA. The meeting brought together key personnel, Project and Core Leaders, and other stakeholders to review Year 1 activities on the grant project and to discuss activities to meet Year 2 specific aims.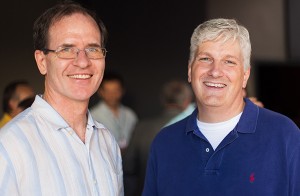 Researchers from Oak Crest were awarded the $20 million grant from the NIH in August 2014 to systematically develop an intravaginal ring capable of delivering potent antiretroviral drugs to prevent the spread of sexually transmitted HIV in women.
The five-year grant is funded under the NIH U19 Program, a mechanism that funds collaborative projects involving multiple institutions. Oak Crest is the lead institution in this collaboration that also includes teams of researchers from the Centers for Disease Control and Prevention, the University of Texas Medical Branch, Johns Hopkins Medical Institutions, Scripps Research Institute, the University of California, Los Angeles, Vanderbilt University, Miriam Hospital and Auritec Pharmaceuticals, among others.
As part of the grant funding guidelines, team members involved in the NIH U19 Program must meet in person at least once a year to present their research findings and discuss progress and challenges that they have encountered during the past 12 months. To kick off the meeting participants at the first IPCP Annual Meeting spent Wednesday evening enjoying lively conversation and food during a reception and dinner at a local favorite, the Bodega at Paseo Colorado in Pasadena.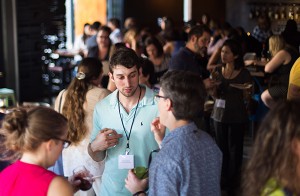 On Thursday, team members assembled for a day of presentations and networking at The Botanical Center, The Huntington Library, Art Collections and Botanical Gardens. Presenters from the four Project Areas updated attendees on activities and findings in each of the key research areas. Special guests included Drs. Lawrence Stanberry, David Martin and Thomas Moench, members of the IPCP Scientific Advisory Panel. In addition, close to a dozen junior researchers from Oak Crest attended the daylong event. To document the proceedings and include members who were unable to attend, the presentations were made available via live web-cam streaming using GoToMeeting.com.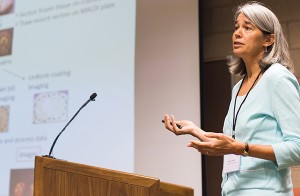 "This was truly a unique event," said Dr. Baum. "Our young scientists at Oak Crest, many of whom have not even finished their college degrees, had the chance to converse with top notch researchers from some of the most prestigious institutions in the country. They were able to discuss groundbreaking advances in drug formulations that are urgently needed to overcome inadequate disease treatment and prevention in the developing world. Where else would they have this type of amazing opportunity?" commented Dr. Baum.
To close out the first IPCP Annual Meeting, Project and Core Leaders met Friday morning at the Westin Hotel in Pasadena for breakfast and a general scientific session, which was followed by a planning session for Year 2 activities.
"The entire U19 team has worked tirelessly on this project for the past year," added Dr. Baum. "The opportunity to bring this amazing team together in person, to network, socialize and plan for the future, further solidified our dedication to each other and to the Program. We have made significant progress in these first 12 months and are looking forward to continuing this trend in the months ahead," he added.
Based on the success of this first meeting, preparations have begun for the Second IPCP Annual Meeting to be held April 27-29, 2016.