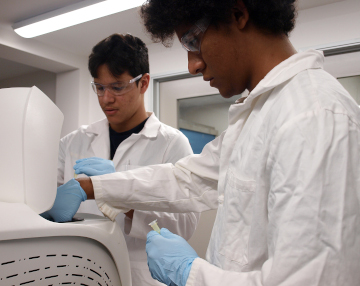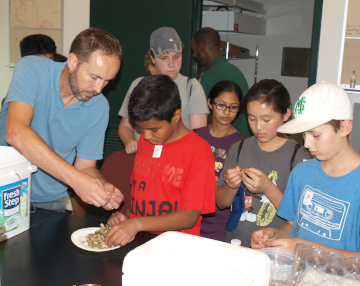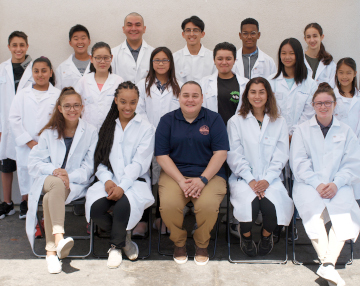 The JRA returns with a modified virtual program, please check our open programs page for more information!
Junior Researcher Academy
The Oak Crest Institute of Science and the City of Monrovia Junior Researcher Academy (JRA) is opening its doors for the summer. The JRA is a two-week science experience where students learn and apply laboratory skills. Mixing hands-on experiments with science based field trips, this is ideal for students who want to know what a scientist's daily life is like. The JRA is open to all students (grades 7 – 9) but a priority will be given to MUSD students and residents.
Students are introduced to a variety of scientific fields through hands-on experiments mentored by research scientists. They will be exposed to biology, chemistry, physics, and computer science in an engaging yet fun research environment. The Academy philosophy is 'Learning by Doing' where we use scientific thinking to explore our world.
The 2021 Junior Researcher Academy – at home
The 2021 JRA with all it's challenges due to the COVID-19 pandemic turned out to be a fantastic event. The JRA enrolled 21 student participants (66% female), who were taught by 3 undergraduate students. The teachers were supported by a team of 5 undergraduates working in the background to make this event a resounding success. Thanks to a great effort by our team of instructors, a great bunch of Junior Researchers at home and the generous support by the City of Monrovia and Boston Scientific!
I want to thank you both for today's engaging experiment and lab tour. My daughter has been protesting about not liking science or zoom after her year of zoom school. She finally turned a corner after setting up everything for the experiment and thought it was really cool! Hearing her say " I'm a scientist" as she did her work in her gloves smiling with all of her equipment was really exciting to hear. She was in awe of the changes in her tube after adding the alcohol. Best of all I didn't have to say "let's try the cheek experiment another day" – She said it!
We likely would not have been able to do the class this year if it weren't on zoom, so I actually appreciate that it is. I had hoped that it would make science fun, interesting and easy to understand with some hands-on projects since Sophie has seemed intimidated or bored by science in school recently. When we opened the bag of supplies, it was clear there would be some great projects! I reminded her it would involve some skills she already has and to just have fun with it. You have a great team there showing the kids that science is fascinating and not to be intimidated of. It's so beneficial for the students to see the real-life applications of how you use the equipment and what you're studying. Sitting alongside my daughter while she's working has been nice, something we can take time for together. I worked on some marine biology research studies with the microscope and collecting samples after college at UCSB, and did veterinary lab test analysis, so selfishly, it's also fun for me. We're looking forward to next week!
Wooden microscope images
The first assignment for our Junior Researchers was to assemble a wooden microscope and take images of different objects around the house. Here are some examples. Keep sending us more!
Maddie sent us the great images of the mouse jaw bones from the owl pellet experiment, an image of a rock and a closeup of a five dollar bill. Fantastic work!
DNA extraction from strawberries
The third assignment for our Junior Researchers was to extract DNA from strawberries. The strawberries were smashed up with detergent, filtered through paper and the DNA was extracted from the liquid using cold ethyl alcohol. Look how much we got on the stick!
Introductions to research at Oak Crest
Online tour and introduction to microbiology at Oak Crest with Lisa, Matt and Alijah interviewing Sofia on how she grows bacterial cultures in the lab.
Owl pellet images
The second assignment for our Junior Researchers was to dissect an owl pellet. Here are some examples of what was found inside. Keep sending us more!
Geode kit
This is a short instructional video by the JRA team Lisa, Matt and Alijah on how to safely crack a geode without having dangerous shards flying around. Safety always comes first!
The grand finale
"Open house" on our parking lot with elephant toothpaste and fire extinguisher training!