Wednesday, April 27, 2016 marked the beginning of a meeting of the minds. Young minds. Curious minds. Brilliant minds all focused on one thing – stopping the spread of sexually transmitted HIV in women.
Hosted by Dr. Marc Baum, president and senior faculty at the Oak Crest Institute of Science, the three-day Annual Meeting supported by the Integrated Preclinical/Clinical Program for HIV Microbicides and Biomedical Prevention (IPCP-MBP) program brought together a team of researchers from the Centers for Disease Control and Prevention (CDC), the University of Texas Medical Branch, Johns Hopkins Medical Institutions, Scripps Research Institute, the University of California, Los Angeles and San Diego, Vanderbilt University, Miriam Hospital and Auritec Pharmaceuticals.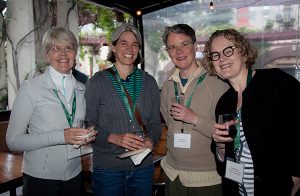 Attendees at this years' event, held in Pasadena, CA, included key personnel, Project and Core Leaders and additional stakeholders who are involved in this lifesaving research (see video here). "This meeting gives us the opportunity to get together to discuss science, the challenges we are facing and to come up with creative ideas," says Principal Investigator, Dr. Baum. "Face-to-face meetings like this are really instrumental in driving this project forward and in the success of our research."
Throughout the three days, researchers from across the country shared their experiences, insight and challenges as they forge ahead in finding a solution to stop the spread of the worldwide HIV epidemic.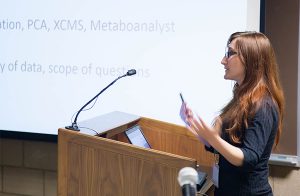 According to The Joint United Nations Programme on HIV/AIDS (UNAIDS), in 2015 some 36.7 million [34.0 million–39.8 million] people globally were living with HIV including 2.1 million [1.8 million–2.4 million] people who became newly infected within the past 12 months. In addition, some 1.1 million [940,000 – 1.3 million] people died from AIDS-related causes worldwide in 2015, compared to 2 million [1.7 million – 2.3 million] in 2005.
While antiretroviral (AVR) drug therapies are helping slow the death rate from this disease, the development of a safe, effective and sustainable preexposure prophylaxis (PrEP) solution has remained elusive until now.  "With an HIV vaccine still years away, the use of topical AVRs in preexposure prophylaxis is a promising biomedical intervention to prevent new infections," adds Dr. Baum. "The pod-intravaginal ring (IVR), under development by Oak Crest and its collaborators, is especially well suited for use by women in developing nations where a highly effective, low cost form of HIV prevention is in high demand.
"The novel and versatile drug delivery system that our team is developing has proven that it has the capacity to deliver and maintain protective levels of multiple drugs," states Dr. Baum.  "Unlike other scientists who are focused on treatment of HIV, we are focusing on stopping the transmission of HIV in its tracks."
Funding for this five-year grant project was awarded to Oak Crest in 2014 under the National Institutes of Allergy and Infection Disease (NIAID) IPCP-MBP Program, a grant, which funds collaborative projects through the U19 cooperative agreement mechanism involving multiple institutions. Oak Crest is the lead institution in this $20 million grant, which calls for the systematic development of an IVR capable of delivering potent AVR drugs to prevent the spread of sexually transmitted HIV in women.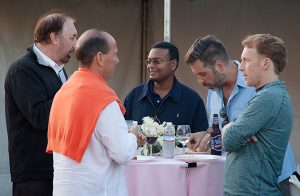 Dr. Baum attributes much of the success of the IPCP-MBP supported research to the fact that the team has quickly become a very cohesive unit. In spite of some potential obstacles, including the physical location of team members and an already demanding workload, this group has been productive and is rapidly advancing the fundamental and applied research required to meet the Program's ambitious objectives.
Throughout the second IPCP annual meeting, experts from some of the most prestigious research facilities in the country repeatedly stressed the importance of the young scientists who have joined the team. "Younger scientists and interns are really the lifeblood of any laboratory, these are the people that are carrying on the research on a day-to-day basis," adds Dr. Paul Webster, senior faculty at Oak Crest. "Without these young people, we would not be able to make the advances that we are currently making."
Perhaps Dr. Embriette Hyde, a researcher from the University of California, San Diego, summed it up best when she said, "Older scientists can see it as a responsibility and also a privilege to teach the younger generation so that we can create solutions and work together on this project, which will eventually lead to a bright, new generation of scientists!"
Click here to learn more about this groundbreaking research and the scientists who are leading the way in HIV prevention.