On August 15th the Oak Crest team had the great honor of welcoming The Honorable Grace F. Napolitano, the U.S. Representative for California's 32nd congressional district, to the Oak Crest Institute of Science.
Congresswoman Napolitano met with Dr. Chris Buser (see photo below) to congratulate him on his recently awarded prestigious RIS i6 Challenge grant by the Economic Development Administration for his Monrovia – Oak Crest Science and Technology Incubator Program (MOST-IP).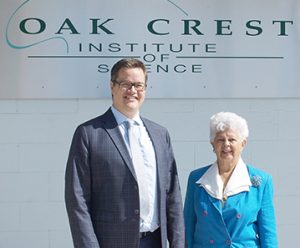 Congresswoman Napolitano also met with other Oak Crest Faculty members to discuss the on-going educational and research programs at the institute. Of particular interest to her were the Oak Crest environmental projects involving improving water quality, as she is a strong advocate for securing clean, inexpensive water supply that we can rely on even in times of drought.
Congresswoman Napolitano met with Dr. Marc M. Baum, President and CEO of Oak Crest and presented him with a Certificate of Congressional Recognition, which is already hanging on the wall in our entrance-way.
Also present during the visit were Mr. Tom Adams, Mayor of the City of Monrovia, Mr Oliver Chi, our outgoing City Manager, and Lauren Vasquez and Brittany Mello from the City Managers Office.